Episodes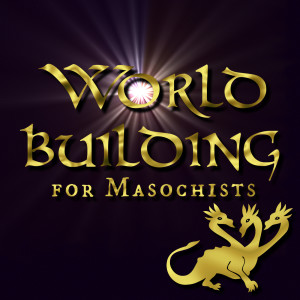 Wednesday Jun 08, 2022
Wednesday Jun 08, 2022
Your characters and the relationships they have -- romantic, sexual, friendly, familial, professional -- will drive much of what readers connect to in your stories. So what sort of relationship dynamics do you want to build into your world's cultures? Foz Meadows joins us to discuss all the things that make up the space between two or more hearts.
From power structures and politics to financial inheritance and gender roles, there's a lot to consider. What kinds of relationships are possible in your world? Is marriage even a thing? If so, how many people can be in a marriage? Is your world totally queernorm, not at all, or somewhere on the spectrum in-between? And how about sex positivity? Who embraces free love, and who prefers chastity? These considerations can help you build a world that feels emotionally real, even if it challenges a reader's preconceptions of what a "relationship" means.
Transcript for Episode 78 (with thanks to our scribes! Want to join the team? Email us at worldbuildcast at gmail dot com)
Our Guest: Foz Meadows is a genderqueer fantasy author, essayist, reviewer, blogger and poet. She has most recently published An Accident of Stars and A Tyranny of Queens with Angry Robot, and Coral Bones with Rebellion; a full list of her publications can be found here. Foz is a reviewer for Strange Horizons, and has been a contributing writer for The Book Smugglers, Black Gate and The Huffington Post, as well as a repeat contributor to the podcast Geek Girl Riot. Her essays have appeared in various venues online, including The Mary Sue, A Dribble Of Ink and Uncanny Magzine. She is a four-time Hugo Award nominee for Best Fan Writer, which she won in 2019; she also won the 2017 Ditmar Award for Best Fan Writer, for which she has been nominated three times. In 2017, An Accident of Stars was a finalist for the Bisexual Book Awards, and in 2018, 'Coral Bones' won the Norma K. Hemming Award in the short fiction category.
An itinerant Australian, Foz currently lives in California with not enough books, her very own philosopher and their voluble spawn. Surprisingly, this is a good thing.