Episodes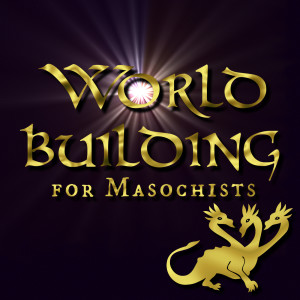 Wednesday Mar 16, 2022
Wednesday Mar 16, 2022
Fashion: not just a frivolity, but a component of worldbuilding that can communicate so much about your world's resources, industry, and power structures, as well as characters' individual choices and personalities. Guest Natania Barron joins us to explore the potential presented by frills and furbelows of all kinds.
From bifurcated Celts to Tudor sumptuary laws to lavender pocket squares, what inspiration can you find for complicating the "standard fantasy wardrobe" into something specific to your world? How can you interrogate the intersection of clothing and gender, clothing and economy, clothing and oppression, clothing and political statements?
Transcript for Episode 72 (Thank you, scribes!)
Our Guest: 
The award-winning author of Queen of None, a feminist Arthurian retelling, Natania Barron is preoccupied with mythology, monsters, mayhem, and magic. From medieval-inspired tales to Regency fantasy romance, her often historically-inspired novels are lush with description and vibrant characters.
Natania's shorter work has appeared in Weird Tales, EscapePod, and various anthologies and RPG settings. On Twitter, she's known for her #ThreadTalks, which dive deep into the unseen world of fashion history–one of their favorite topics–as well as a meme or two. She identifies bisexual and demisexual, and goes by she/her/they pronouns.
In terms of academics, the author holds a BA in English/Writing from Loyola University Maryland and an MA in English with a concentration in medieval literature from the University of North Carolina at Greensboro. Though she left academia physically, she's never stopped researching. Natania can regularly be found deep in the tomes of digitized illuminated manuscripts around the world.
As a mental health activist, especially regarding adolescent care, Natania has drawn nationwide attention for her writing, including mainstream news and television appearances. Additionally, she writes extensively about her own later-in-life ADHD diagnosis.
When not traveling through imagined worlds, she lives in North Carolina with her family, where she traipses through the forest on a regular basis, bakes incessantly, drinks an inordinate amount of tea, and dreams of someday owning a haunted house of her own.