Episodes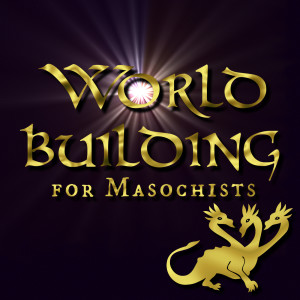 Wednesday Jan 19, 2022
Wednesday Jan 19, 2022
It's time for another Listener Q&A episode! Wherein we discuss fjords, metallurgy, giant Martian otters, bouncy castles, starch-based food categorization, and much more.
And, because you asked, here's how you can nominate Worldbuilding for Masochists for a 2022 Best Fancast Hugo Award:
Eligiblity: You can nominate us (and all your other favorite works from the past year!) if you either had a qualifying membership to DisCon 3 (WorldCon 2021) or if you have a qualifying membership to ChiCon 8 (WorldCon 2022).
What's a qualifying membership? For DisCon 3, it was a Supporting, Attending, Virtual, or Young Adult membership. For ChiCon 8, it's a Supporting or Adult, Young Adult, Teen or Child Membership.
So: If you voted on the 2021 ballots, you're already qualified. If you didn't but would like to become qualified this year, you have until January 31, 2022, 11:59 PM Pacific Standard Time (PST) (UTC-8) to purchase a qualifying ChiCon 8 membership. It's worth noting that a qualifying membership will also get you an amazing packet of Finalist works, including novels and short fiction. Supporting memberships truly do more than pay for themselves with the amount of awesome stuff you get in the packet!
Okay, I'm eligible. What now? You will receive an e-mail to your registered e-mail address with a customized login link. Click on the link and you will be able to begin your nominations ballot.
You can keep adding to or changing your nominations until Tuesday, March 15, 2022, 11:59 PM Pacific Daylight Time (UTC-7).
More questions? Check out the ChiCon 8 website!
Transcript for Episode 68, with thanks to our scribes! (And if you are interesting in joining the scribing team, please send us an email!)