Episodes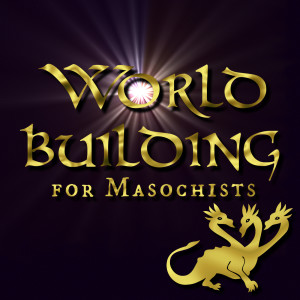 Wednesday Dec 22, 2021
Wednesday Dec 22, 2021
So you've got lore galore, complex sociopolitical tangles, and a history that reaches back through the ages. How do you show that on the page without infodumping? Marie Brennan and Alyc Helms, who together make up M. A. Carrick, help us explore building a world with deep historical roots while communicating that history in a way that feels natural and exciting for a reader.
How do your characters think of their world's history? What different perspectives are there on historical events, and how have those perspectives shaped the present?
Transcript for Episode 66 (with thanks to our scribes!)
Our Guests: 
Alyc Helms prefers tea over all other beverages. They sometimes refer to their work as "critical theory fanfic," which is a fancy way to say that they are obsessed with liminality, gender identity, and foxes (and tea!). They are the author of the Adventures of Mr. Mystic novels from Angry Robot and, as M.A. Carrick, the co-author (with Marie Brennan) of The Mask of Mirrors, first in the Rook & Rose trilogy from Orbit Books.
Marie Brennan is a former anthropologist and folklorist who shamelessly pillages her academic fields for inspiration. She recently misapplied her professors' hard work to The Night Parade of 100 Demons and the short novel Driftwood. She is the author of the Hugo Award-nominated Victorian adventure series The Memoirs of Lady Trent along with several other series, over sixty short stories, and the New Worlds series of worldbuilding guides; as half of M.A. Carrick, she has written The Mask of Mirrors, first in the epic Rook and Rose trilogy.