Episodes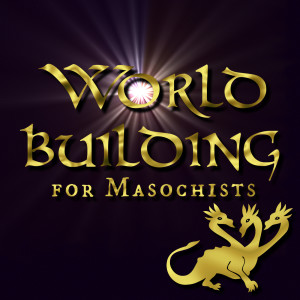 Wednesday Jul 07, 2021
Wednesday Jul 07, 2021
When you're building for the near future, how far can you go? Is technology going to doom us, save us, or a bit of both? How does a society make that determination -- and how can your worldbuilding show those choices in action?
In this episode with guest PJ Manney, we explore cyberpunk, technothrillers, and other alternate-near-future fiction. We also spend some time teasing apart the ideas of genre, aesthetic, and plot device, and where they overlap.
Our Guest: PJ Manney is the author of the bestselling and Philip K. Dick Award nominated science fiction technothriller, (R)EVOLUTION (2015), published by 47North in the Phoenix Horizon trilogy with, (ID)ENTITY (2017), and (CON)SCIENCE, (2021). Set as alternate, future American histories, the novels chart the influence of world-changing technologies on power and nations. 
A former chairperson of Humanity Plus, she helped rebrand the organization, launch H+ Magazine and organize the first multi-org conference on futurist topics, Convergence '08. She authored "Yucky Gets Yummy: How Speculative Fiction Creates Society"​ and "Empathy in the Time of Technology: How Storytelling is the Key to Empathy,"​ foundational works on the neuropsychology of empathy and media. 
Manney presented her ideas to National Geographic, the Producers Guild of America, Directors Guild of America, NASA-JPL, M.I.T., Huffington Post, The H+ Summit, and the Institute for Ethics and Emerging Technologies, is a frequent guest on podcasts/webshows including StarTalk, The World Transformed, Singularity 1on1 and Amazing Mind, and has published in BoingBoing, Live Science and Tor.com. She is also the first person to create and transfer a digital autograph for a novel verified by the blockchain. Manney consults for varied organizations about the future of humanity and technology, including artificial intelligence, robotics, cyborgs, nanotechnology, biotechnology, brain-computer interfaces, space, blockchains and cryptocurrencies.
Manney graduated from Wesleyan University double majoring in Film and American Studies. She worked for over 25 years in film/TV: motion picture PR at Walt Disney/Touchstone Pictures; story development for independent film production companies; and writing as Patricia Manney for the critically acclaimed hit TV shows Hercules — The Legendary Journeys and Xena: Warrior Princess. She also co-founded Uncharted Entertainment, writing and/or creating many pilot scripts for television networks, including CBS, Fox, UPN, Discovery, ABC Family and Comedy Central.
Manney lives with her husband in Southern California and is a dual citizen of the US and New Zealand. She is a member of the WGA, SFWA, ITW and PEN America.

--
Transcript for Episode 54 (with thanks to our scribes!)