Episodes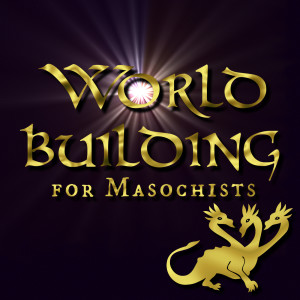 Wednesday Sep 01, 2021
Wednesday Sep 01, 2021
Most speculative fiction takes place in a society that has a government of some kind. But what, exactly is a state? And how does it come to be? C.L. Polk joins us to discuss the making and breaking of nations within your fantasy worlds.
From farmboy kings to scheming dukes with surprisingly benevolent control of their printing presses, from the trials and tribulations of parliaments to the somewhat horrifying implications of magical lobbyists, we hope that you'll find ideas in here to help you craft a government to your preferred level of wonkiness.
Transcript for Episode 58 (with thanks to our lovely scribes!)
Our Guest: C. L. Polk (they/them) is the author of the World Fantasy Award winning novel Witchmark, the first novel of the Kingston Cycle. Their newest novel, The Midnight Bargain, was a finalist in the CBC Canada Reads Competition, and was nominated for the Nebula, FIYAH Ignyte, and World Fantasy Awards.
After leaving high school early, they have worked as a film extra, sold vegetables on the street, and identified exotic insect species for a vast collection of lepidoptera before settling down to write fantasy novels.
Mx. Polk lives near the Bow River in the traditional territories of the Blackfoot Confederacy (Siksika, Kainai, Piikani), the Tsuut'ina, the Îyâxe Nakoda Nations, and the Métis Nation (Region 3). They keep all their stuff in a tiny apartment with too many books and a yarn stash that could last a decade. They ride a green bicycle with a basket on the front.
They drink good coffee because life is too short. They spend too much time on twitter. You can subscribe to their free newsletter on TinyLetter, or subscribe to their Patreon for content writing nerds like.
Mx. Polk is represented by Caitlin McDonald of the Donald Maass Literary Agency.