Episodes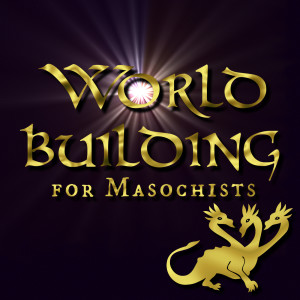 Wednesday May 12, 2021
Wednesday May 12, 2021
For our fiftieth episode, we welcome an all-star panel of guests who write in major franchises! Delilah Dawson, Tini Howard, David Mack, and Mike Chen tell us what it's like to write for Star Wars, Star Trek, Marvel comics, and other IP worlds, from having seventeen editors to bringing their own perspectives and values to established universes.
Transcript for Episode 50 (with special kudos to our scribes for taking on the challenge of differentiating seven different voices!)
Our Guests: 
Delilah Dawson: Delilah S. Dawson is the New York Times bestselling writer of Star Wars: PHASMA, plus Galaxy's Edge: Black Spire, The Secrets of Long Snoot, The Perfect Weapon, and Scorched; the Blud series, Servants of the Storm, the HIT series, Wake of Vultures and the Shadow series (as Lila Bowen), and a variety of short stories in anthologies such as Death & Honey, Robots vs. Fairies, Hellboy: an Assortment of Horrors, Violent Ends, Carniepunk, Three Slices, and Last Night a Superhero Saved My Life. With Kevin Hearne, she is the co-writer of the Tales of Pell series.
Her next projects are MINE, a middle grade horror novel with Delacorte in Fall 2021 and THE VIOLENCE, a generational trauma tale set during a pandemic of random outbreaks of violence, out with Del Rey in 2022.
Her comics credits include the creator-owned Ladycastle #1-4, Sparrowhawk #1-5, Star Pig #1-4, Firefly: The Sting, The X-Files Case Files: Florida Man #1-2, Adventure Time comics #66-69, Rick and Morty Presents: Pickle Rick, and Jim Henson's Labyrinth 2017 Special from BOOM! Studios, as well as stories in Star Wars Adventures #5, #6, #18, #25, and Star Wars: Forces of Destiny: Rose and Paige for IDW. Her most recent comics project is WELLINGTON, written with Aaron Mahnke of the Lore podcast.
Delilah is the winner of the 2015 Fantasy Book of the Year from RT Book Reviews for WAKE OF VULTURES and the 2013 Steampunk Book of the Year and May Seal of Excellence for WICKED AS SHE WANTS. Her work has earned multiple stars from Kirkus, Publishers Weekly, Booklist, and Library Journal.
She lives in Florida with her family.
Tini Howard: Tini Howard is an American writer of comic books, essays, and at least one upcoming novel. Since 2018, she has been writing comics exclusively for Marvel, including Thanos: Zero Sanctuary, Strikeforce, and Excalibur from the best-selling Dawn of X. 
Tini's other graphic novel work spans several beloved properties, including Rick and Morty, GLOW, and Mighty Morphin Power Rangers. She has produced two graphic novels with IDW's Black Crown imprint — the critically-acclaimed Euthanauts with Nick Robles, and Assassinistas with Eisner Hall of Fame-inductee Gilbert Hernandez. She broke into comics in 2014 as a winner of the Top Cow Talent Hunt, which saw the publication of her first comic, Magdalena: Seventh Sacrament. 
She lives in Los Angeles with her husband, Blake, and their two sons Orlando and General Hugs, who are cats. 
David Mack: David Mack is the award-winning and The New York Times bestselling author of more than thirty-six novels and numerous short works of science-fiction, fantasy, and adventure, including the Star Trek Destiny and Cold Equations trilogies.
Mack's writing credits span television (for episodes of Star Trek: Deep Space Nine), film, and comic books. His latest novels are The Shadow Commission, the final volume of his Dark Arts trilogy published by Tor books; and his long-postponed Star Trek novel More Beautiful Than Death.
His newest projects include the short story "Fiasco" in the pulp-homage anthology Thrilling Adventure Yarns 2021, and a new novel, Star Trek: Coda, Book III: Oblivion's Gate, coming November 30, 2021.
He currently works as a consultant on the upcoming animated television series Star Trek: Prodigy.

Mack resides in New York City with his wife, Kara.
Mike Chen: Mike Chen is the author of We Could Be Heroes, Here And Now And Then (a finalist for Goodreads Choice - Best Sci-Fi, CALIBA Golden Poppy, and the Compton Crook Award) and A Beginning At The End ("a brilliant, fragile path through the darkness" -- Library Journal). His short fiction is featured in Star Wars: From A Certain Point Of View -- The Empire Strikes Back, and he has covered geek culture for sites such as Tor.com, The Mary Sue, and StarTrek.com. In a previous life, he covered the NHL for Fox Sports, SB Nation, and other outlets. A member of SFWA, Mike lives in the Bay Area with his wife, daughter, and rescue animals.